Review: Colleen Hoover's CONFESS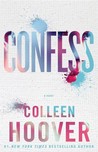 I have read only one book by Colleen and that was
Hopeless
, which I quite enjoyed. And I did start with
Maybe Not
but I don't think I ever finished it after I had to return it and never reissued it...*shrugs*----
Anyway, I wasn't necessarily going to read
Confess
so soon. It sort of just happened. My experience was a-okay with this one. I loved the whole concept about using confessions behind those beautiful paintings that were featured in the book.
This book was dual POV and I liked how the events were presented to us. But I wasn't really sold on that whole hook to the plot-line and that minor twist of fate at the end. :P
So, I dunno I didn't really believe the attraction/relationship between the two leads either. Gah.
I guess I have yet to really connect with Colleen's characters and story-line.
I hope you guys really enjoy it. It just didn't work for me, sadly.
Teaser:
Rating:
xxo