Blog Tour | THE READER'S OF BROKEN WHEEL RECOMMEND | Campaign [Giveaway]
Y'guys I have for you the blog tour for the The Readers of Broken Wheel Recommend... Scroll down for the campaign launched by Sourcebooks and also enter the giveaway..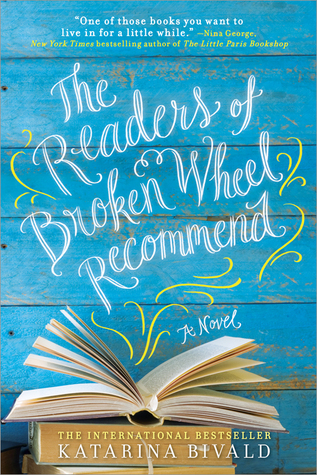 Once you let a book into your life, the most unexpected things can happen...
Broken Wheel, Iowa, has never seen anyone like Sara, who traveled all the way from Sweden just to meet her pen pal, Amy. When she arrives, however, she finds that Amy's funeral has just ended. Luckily, the townspeople are happy to look after their bewildered tourist—even if they don't understand her peculiar need for books. Marooned in a farm town that's almost beyond repair, Sara starts a bookstore in honor of her friend's memory.
All she wants is to share the books she loves with the citizens of Broken Wheel and to convince them that reading is one of the great joys of life. But she makes some unconventional choices that could force a lot of secrets into the open and change things for everyone in town. Reminiscent of The Guernsey Literary and Potato Peel Pie Society, this is a warm, witty book about friendship, stories, and love.
READERS, RECOMMEND YOUR BOOKSTORE!
Sourcebooks Launches Reader Voting Campaign to Grant Money to Community Bookstores
NAPERVILLE IL (January 5, 2016) — Independent publisher Sourcebooks announces the "Readers, Recommend Your Bookstore" campaign, which will give grant money to three nominated bookstores. The "Readers, Recommend Your Bookstore Campaign" is inspired by the phenomenal support booksellers have given The Readers of Broken Wheel Recommend by Katarina Bivald, which was selected as the #1 Indie Next Great Read for January 2016.
Katarina Bivald's international bestselling debut novel, The Readers of Broken Wheel Recommend, is a charming, big-hearted story about the joy of books and the transformative power of community bookstores.
"Bookstores are the heart and soul of their community and have enormous impact on readers' lives," said Dominique Raccah

, founder and CEO of

Sourcebooks. "The Readers of Broken Wheel Recommend inspired us to create a campaign that will not only give back to a few deserving bookstores, but hopefully highlight all the many wonderful bookstores that service communities across the country."
Anyone can nominate their favorite bookstore at http://books.sourcebooks.com/readers-recommend-your-bookstore-sweepstakes/. Sourcebooks will award the winning bookstore with a $3,000 prize; two additional bookstores will each receive a $637 prize (the population of Bivald's fictional Broken Wheel, Iowa). In addition to bookstores receiving prizes, weekly giveaways for those who nominate will be held throughout the campaign. Voting began January 4, and runs until February 19, when the winning bookstores will be announced.
Midwest Connections Pick February 2016
"Touching and lively, Bivald's genuine homage to the power of books vibrates with fondness for small-town life and fascination with its indelible connections."
— Booklist
"[A] heartwarming and utterly charming debut novel by Swedish author Bivald…. This gentle, intelligent Midwestern tale will captivate fans of Antoine Laurain's The Red Notebook, Nina George's The Little Paris Bookshop, and Gabrielle Zevin's The Storied Life of A.J. ­Fikry. An ideal book group selection, it reminds us why we are book lovers and why it's nice to read a few happy endings."
— Library Journal (STARRED)
"Between the book references and the idyllic setting, readers won't want to leave Broken Wheel, either."
— Kirkus Reviews
"Bivald's The Readers of Broken Wheel Recommend is perfection. Every word on every page is sheer perfection. I haven't been this in love with a book in ages! Sara has traveled all the way from Sweden to meet her pen pal Amy in Broken Wheel, Iowa, only to discover Amy has recently passed away. The townspeople of Broken Wheel quickly adopt Sara as one of their own and what follows is one of the loveliest and endearing books I've encountered in ages! I'll carry this book in my heart for years to come."—Bess Bleyaert, McLean & Eakin (Petoskey, MI)
"This heartwarming story is the answer for those who loved The Storied Life of AJ Fikry. Book lovers will applaud Sara and her love of books. Book clubs will delight in this delightful caper through book-loving middle America. Read this and smile!"
—Nancy Simpson-Brice, Book Vault (Oskaloosa, IA)
"LOVED IT! Readers will cheer for Sara and all the residents of Broken Wheel as a friendship that began with An Old Fashioned Girl renews and offers hope to an entire town."
—Jennifer Winberry, Hunterdon County Library (Flemington, NJ)
"I thoroughly enjoyed reading [this book]. The descriptive language was wonderful."
—Lesley Marshall, Perry Branch Library (Gilbert, AZ)
****
Excerpt:
The strange woman standing on Hope's main street was so ordinary it was almost scandalous. A thin, plain figure dressed in an autumn coat much too gray and warm for the time of year, a rucksack lying on the ground by her feet, an enormous suitcase resting against one of her legs. Those who happened to witness her arrival couldn't help feeling it was inconsiderate for someone to care so little about their appearance. As though this woman was not the slightest bit interested in making a good impression on them.
Her hair was a nondescript shade of brown, held back with a carelessly placed hair clip which didn't stop it flowing down over her shoulders in a tangle of curls. Where her face should have been, there was a copy of Louisa May Alcott's

An Old-Fashioned Girl

.
She didn't seem to care at all that she was in Hope. It was as if she had just landed there, book and luggage and uncombed hair in tow, and might just as well have been in any other town in the world. She was standing on one of the most beautiful streets in Cedar County, maybe even the prettiest in the whole of southern Iowa, but the only thing she had eyes for was her book.
But then again, she couldn't be entirely uninterested. Every now and again a pair of big gray eyes peeped up over the edge of the book, like a prairie dog sticking its head up to check whether the coast was clear. She would lower the book further and look sharply to the left, then swing her gaze as far to the right as she could without moving her head. Then she would raise the book and sink back into the story again.
In actual fact, Sara had taken in almost every detail of the street. She would have been able to describe how the last of the afternoon sun was gleaming on the polished SUVs, how even the treetops seemed neat and well organized, and how the hair salon fifty meters away had a sign made from laminated plastic in patriotic red, white and blue stripes. The scent of freshly baked apple pie filled the air. It was coming from the cafe behind her, where a couple of middle-aged women were sitting outside and watching her with clear distaste. That was how it looked to Sara, at least. Every time she glanced up from her book, they frowned and shook their heads slightly, as though she was breaking some unwritten rule of etiquette by reading on the street.
She took out her phone and redialed. It rang nine times before she hung up.
So Amy Harris was a bit late. Surely there would be a perfectly reasonable explanation. A flat tire maybe. Out of petrol. It was easy to be—she checked her phone again—two hours and thirty-seven minutes late.
She wasn't worried, not yet. Amy Harris wrote proper letters, on real, old-fashioned writing paper; thick and creamy. There wasn't a chance in the world that someone who wrote on proper, cream-colored writing paper would abandon a friend in a strange town or turn out to be a psychopathic serial killer with sadomasochistic tendencies, regardless of what Sara's mother said.
A woman had stopped beside her. She gave Sara an artificially patient look.
"Can I help you with anything?" the woman asked. A brown paper bag full of food was resting on her hip, a can of Campbell's tomato soup teetering perilously close to the edge.
"No, thank you," said Sara. "I'm waiting for someone."
"Sure." The woman's tone was amused and indulgent. The women sitting outside the cafe were following the whole conversation with interest. "First time in Hope?"
"I'm on my way to Broken Wheel."
Maybe it was just Sara's imagination, but the woman didn't seem at all satisfied with that answer.
The can of soup wobbled dangerously. After a moment, the woman said: "It's not much of a town, I'm afraid, Broken Wheel. Do you know someone there?"
"I'm going to stay with Amy Harris." Silence.
"I'm sure she's on her way," said Sara.
"Seems like you've been abandoned here, honey." The woman looked expectantly at Sara. "Go on, call her."
Sara reluctantly pulled her phone out again. When the strange woman pressed up against Sara's ear to listen to the ringing tone, she had to stop herself from shrinking back.
"Doesn't seem to me like she's going to answer." Sara put the phone back in her pocket and the woman moved away a little.
"What're you planning on doing there?"
"Have a holiday. I'm going to rent a room."
"And now you've been abandoned here. That's a good start. I hope you didn't pay in advance." The woman shifted the paper bag over to her other arm and clicked her fingers in the direction of the seats outside the cafe. "Hank," she said loudly to the only man sitting there, "give this girl here a ride to Broken Wheel, OK?"
"I haven't finished my coffee."
"So take it with you, then."
The man grunted, but got obediently to his feet and disappeared into the cafe.
"If I were you," the woman continued, "I wouldn't hand over any money right away. I'd pay just before I went home. And I'd keep it well hidden until then." She nodded so violently that the can of tomato soup teetered worryingly again. "I'm not saying everyone in Broken Wheel is a thief," she added for safety's sake, "but they're

not

like us."
Hank came back with his coffee in a paper cup, and Sara's suitcase and rucksack were thrown onto the back seat of his car. Sara herself was guided carefully but firmly to the front seat.
"Go on, give her a ride over, Hank," said the woman, hitting the roof of the car twice with her free hand. She leaned toward the open window. "You can always come back here if you change your mind."
"So, Broken Wheel," Hank said disinterestedly.
Sara clasped her hands on top of her book and tried to look relaxed. The car smelled of cheap aftershave and coffee.
"What're you going to do there?"
"As a holiday," she explained.
"We'll see, I guess," Hank said ominously.
She watched the scenery outside the car window change. Lawns became fields, the glittering cars disappeared and the neat little houses were replaced by an enormous wall of corn looming up on either side of the road, which stretched straight out ahead for kilometers. Every now and then it was intersected by other roads, also perfectly straight, as though someone had, at some point, looked out over the enormous fields and drawn the roads in with a ruler. As good a method as any, Sara thought to herself. But as they drove on, the other roads became fewer and fewer until it felt as though the only thing around them was mile after mile of corn.
Katarina Bivald grew up working part-time in a bookshop. Today she lives outside of Stockholm, Sweden, with her sister and as many bookshelves she can get by her. She'scurrently trying to persuade her sister that having a shelf for winter jackets and shoes is completely unneccessary. There should be enough space for a book shelf or two instead. Limited success so far. Apparantly, her sister is also stubbornly refusing to even discuss using the bath room to store books.
Katarina Bivald sometimes claims that she still hasn't decided whether she prefer books or people but, as we all know, people are a non-starter. Even if you do like them, they're better in books. Only possible problem: reading a great book and having noone to recommend it to.
Läsarna i Broken Wheel rekommenderar/The Readers in Broken Wheel Recommend is her first novel.

Review coming asap..
Toodles..