Yearly Favorites | Books
Hiya.. I know.. I have been gone soo long.. I am soo sorry about that.. But I am finally coming up with a scheduled routine to balance my marital and blogging life.. Also, Happy New Year. 😜
I will post every Thursday and Sunday. In sha Allah. The number of posts may vary.. If there is a change in schedule I will let you know beforehand.. In sha Allah.
Anyway, back to the post. Before I enlist my favorites.. I will let you all know I failed the freaking Goodreads challenge by 3 books. JUST 3 BOOKS. Also, I failed the A-Z Challenge. YES. I KNOW. I failed it by 5 books.  Grrr.


I have decided to go for 30 books this year.. *fingers crossed*


Anyway, these made it into my favorites for the past year.


Young Adult (YA):

Arena: The first in a gaming dystopian world which had me conpletely by surprise.. I definitely loved the storyline and I can't wait for the sequel to come out..


Before I Fall:
Lauren Oliver's debut was waiting for me to read it and I finally did afyer watching the trailer.. I loved how real the characters were written. Can't wait for the film.
New- Adult (NA)
:
A Court of Mist and Fury
: This sequel to Sarah J. Maas's A Court of Thorns and Roses was such a delight and it was everything. I ABSOLUTELY LOVED THIS SEQUEL. Can't wait for ACOTAR3.
Adult:

Closer Home: This was my first novel by this author and I loved it so much. I loved the main narrator and how different this not so different story was.


The Guineveres: I loved this story set in a Convent about four girls who shared their names.. It featured them trying to leave the Convent and also how tied but not tied individuals can be.


The Readers' of Broken Wheel Recommend: I loved the setting of this book. I would love to open a bookstore at a town that I have only set foot in once.


Comics/Graphic Novels/Manga:

Kaichouwa Maid-Sama: I read 4 manga volumes this year.. I just really love the shenanigans and the love fest going on in here.


Paper Girls
: Oh I definitely enjoyed this graphic novel. I can't really explain why I liked it so much. Maybe I wasn't expecting to like it this much.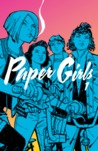 Other Worthy Mentions:

Black Widow: The other thriller that had me completely engrossed. I was a bit disappointed with the ending but the overall journey was quite engaging.


The Forty Rules of Love and The Architect's Apprentice: Elif Shafak kept me company and I absolutely loved both of these stories by her. Definitely recommended.


Blood Instinct and Blood Bound: The sixth and seventh book in the absolutely amazing PNR series by Lindsay J. Pryor sure had me in a lump of anxiety and gushiness.


Smart Girl: Rachel Hollis' final in the Girls' companion trilogy was definitely a doozy. I have loved these books and the fun bestfriend turned boyfriend relationships.


The Lost Codex: The final book in the Collectors' Society was quite good but the ending was sorta abysmal. But I have loved this retelling of Alice in the Wonderland.


P.S. I Like You
: This Kasie West contemporary sure was a great addition to her already beloved books. I surely enjoyed this one. And can't wait to read more from her this year.

So, there you have it. My favorite books of the past year.
I didn't get to read any series this time around so there will be no series favorites.
I still have to tally my most aniticipated 2017 releases. So keep a lookout for that post.


Toodles.