REVIEW | Rachel Vincent's MENAGERIE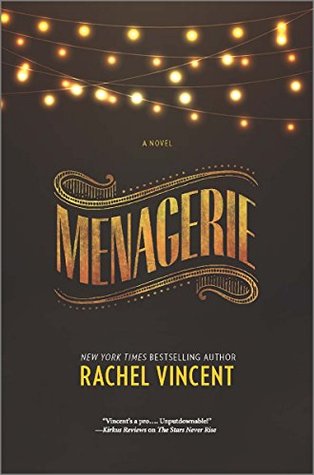 I have been a fan of Rachel Vincent since I read her YA series 'Soul Screamers'.. I loved it and while waiting for the last book I read her adult series.. Loved them both.. So I was already a fan of Vincent's writing.. I knew Menagerie wouldn't be any different.. And I loved it..
Things go awry for Delilah when she protects a werewolf youngling at the Menegerie by accidently showing her other form she didn't even know she had. She is captured and kept in the menegerie where she tries to come to terms with everything and also finding the workings of the Menegerie..
Loved Delilah, she was fierce, she was kind, she was observant.. Delilah was our main narrator but we did get to see other POV's as well. The book was interesting and I loved Vincent's manner of writing and story-telling.. It had me completely hooked and engaged and gasping for the next scene..
Loved this book.. I can't wait for Spectacle...
Toodles,