Monthly Fave(s) #32
I failed to post my favorites from June so here they are along with July's..
for making me happy and sad.

for being shocking and amazing..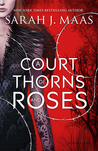 for being great and engaging...
for being the epicness that is Stiefvater..
for being intriguing and gasp-worthy and annoying as well. LOL.
for A. *beams*
Toodles,