Review: Nicola Yoon's EVERYTHING EVERYTHING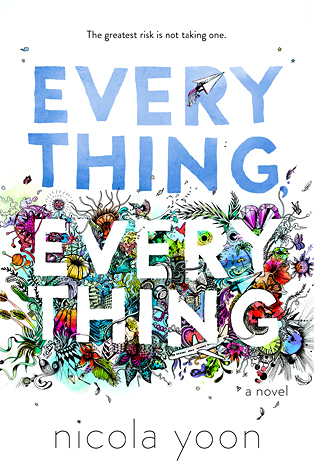 Oh,
Everything, Everything
was soo uniquely formatted and written and I loved Madeline's voice. This was cute and fun and enthralling and intriguing and sweet and oh so different.
I dunno how else to review this book other than let you know of the fact that it was wonderfully written. I had fun reading it cause I was awed by the connection between Olly and Madeline. I loved them together. I LOVED Madeline. I really connected with the characters. I felt like I
knew
them.
The one thing that I didn't like was the twist at the end. It was good news for our peeps but I didn't like how the
mum

was portrayed like that.
Anyway, this was so cute and I loved the ending and I was a bit hesitant about my reaction about this book before starting because of hype worries.
But I am sooo glad I connected with this book and it's characters.
I loved Maddy's blog and her spoiler-ly reviews and those chats between Olly and Maddy.
Everyone should read this if they want something different but totally similar in that teenage romance feeling.
Teaser(s):
"What colour are your eyes?




Olly (O): blue




Madeline (M): Be more specific please




O: jesus. girls. ocean blue




M: Atlantic or Pacific




O: atlantic. What colour are yours?




M: Chocolate brown.




O: More specific please




M: 75% cacao butter, dark chocolate brown




O: hehe. nice"
****
"I was trying so hard to find the single pivotal moment that set my life on its path. The moment that answered the question, 'How did I get here?'
But it's never just one moment. It's a series of them. And your life can branch out from each one in a thousand different ways. Maybe there's a version of your life for all the choices you make and all the choices you don't."
Rating:
A fun book. You won't be disappointed. *fingers crossed*
Thanks to NetGalley and Random House for this ARC.
Toodles.