Review: Sarah J. Maas's A COURT OF THORNS AND ROSES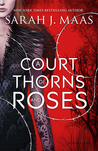 I knew ACOTAR would be amazing as the Throne of Glass books had been but I still had my expectations at a low as I didn't want to be disappointed. And guess what? I definitely wasn't. In fact I was blown away and gave up on my sleep to finish this book. Hahah.
I haven't read a
Beauty and the Beast
retelling before and I enjoyed this take on it. Even though the first half was a bit slow it was engaging enough. And then the second half began and the pacing changed completely and it was all intense. I loved the ending. And I am excited for the next part.
I loved Lucien, Tamlin was okay but Rhysand-- I am on his team.. And I think I overlooked the fact that I didn't really feel Tamlin and was kinda disappointed by his lack of presence in the 2nd half of the book. :P
Also, loved that sort of POV switch between Feyre and you know who..! I loved the whole dark court business and the deal made and the tattoos. And I think Rhys is our guy as the cover features the tattoos. Thehe. But then again this is a B&B retelling soooo.. Hahah.. Also, we have had connections between our lead and the supposed villain before hence my rating will see to that fact. LOL.
Teaser:
"Because your human joy fascinates me—the way you experience things, in your life span, so wildly and deeply and all at once, is … entrancing. I'm drawn to it, even when I know I shouldn't be, even when I try not to be."
Rating:
Queen of Shadows is coming out soon and I still haven't reviewed Heir of Fire. Gah. Next order of business among other things, then.
Also, gonna go research about ACOTAR2..