Review: Danielle Vega's THE MERCILESS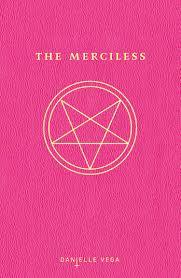 I was expecting too much of The Merciless I believe and so I was kinda disappointed. I thought it would be gruesome and involve a ritualistic activity or a exorcism right from the start but it was nothing but a bunch of teenage girls gone crazy in terms of making a girl answer for her (crimes) actions after quite a while.
This was crazy but not scary. It was unexpected but not
un
expected. And this doesn't even make sense. *shrugs*
This was fast paced so that was good. I think this was a Hollywood film more like. #GoSlasherFilms :D
I did like Brooklyn though and the ending was good but not semi unexpected cause this had to be the ending to make us go wtf and not in a good way. Or maybe it did. *smirks*
Also, I think I shouldn't go into a book w/o reading the synopsis anymore. LOL. I would have digged this more if it had something to do with rituals.
I think I did have a few probs with this but I will let you decide for yourself.
Teaser:
"A human body hangs from the shed, its arms stretched out to either side and tied to the roof gutters with thick rope."
Rating:
I read this book during #booktubeathon. Woot. Ooh btdubs LOVVEE the cover. #pink..
Toodles,