Review: C.J Daugherty & Carina Rozenfeld's THE SECRET FIRE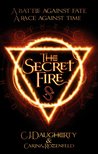 I wasn't really going to request this book at first after I read that description but then I saw a review in my mailbox about this book. I didn't read that review completely just enough to know that she liked it and mentioned HP. So, anyway I went ahead and requested it. It's published by Bookouture and I follow another great series from them so I signed up.
Now this surely had potential but it has all those used tropes which may or may not resonate with readers. In my case, it didn't.
The start had me curious. But then we met our female lead Georgie. I didn't really like her and Sacha either. I didn't like how they were too... I didn't really feel their connection.
And the curse too but the effect got killed when we got to the details. I was bored and didn't really care about the whole thing. It was meant to be cool but it kinda fell apart for me.
I am sorry I didn't connect with the storyline and the characters.
Rating:
Thanks to Netgalley and Bookouture for this review copy.
Toodles.